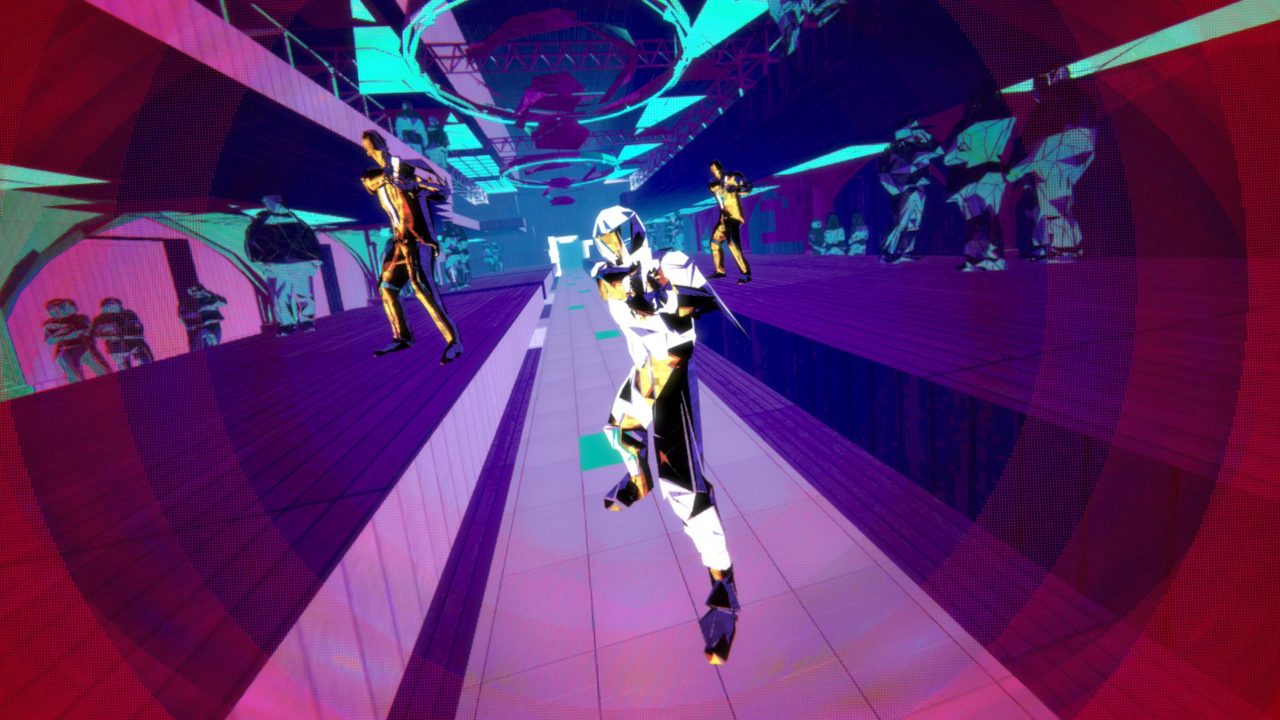 Let's get straight to the good news: We're excited to announce today that Pistol Whip will launch on PS VR July 28 with its current 15-scene soundtrack, including fan-favourite DLC scenes like Full Throttle and the brand-spanking new Religion.
As we built out the earliest prototypes for Pistol Whip, our first-of-its-kind action/rhythm FPS, we imagined the game timed entirely to the John Wick soundtrack. So when we found Kannibalen Records, a music label (and Canadian indie like us) known for their hardcore but cinematic electronic sound, it was love at first listen. This is the music of action movies — the music of Pistol Whip.
Make sure to turn sound ON for the gifs below!
Black Magic was the first Kannibalen track we put in the game, and we instantly knew it fit our John Wick vibe. A hard, driving bassline and an Army of Darkness "Come Get Some" sample hits you in the face with the energy of an unstoppable action hero.
For most Pistol Whip tracks, we made some custom edits to better suit the song to the game, cutting out slower tempos, dead zones, and anything we didn't feel fit the action hero style. For Black Magic, we edited the beginning to start with an instrumental thrumming that gave us the atmosphere of a sprawling Chinatown — what would become our first Pistol Whip scene setting.
Once we had the song and setting, the design team would listen on repeat and begin to map out the structure and motifs of the music, creating the building blocks of the level. Different sounds in the music would infer different types of enemy engagements and region sizes; quieter zones translated to alleyways with long-range engagements, while busier areas of the music encouraged flurries of enemies in all directions.
From there, the music was brought into the game engine and designers could begin adding additional flourishes to the map, such as obstacles or animations. Everything is hand-placed and synced to each beat of the music, with enemy behaviours and pathing manually set for that Time Crisis-inspired arcade style. Obstacles can be used to force you to dodge, weave, and dance; to guide you in a certain direction; or to simply introduce more distractions during a gunfight.
As the music builds in Black Magic, we layer in more enemies on each beat, increasing the pacing of their spawns until a pre-drop climax challenges you with a wall of death. Finally, on the moment before the drop, an armoured enemy appears that can be pistol whipped perfectly to the beat.
And that's only some of what goes into just a single Pistol Whip scene. We'll be launching on PS VR with 15 handcrafted scenes and even more to come in the months to follow. Not just a rhythm game, Pistol Whip is an action FPS driven by music, with elaborate scenes and unique environments for you to fight your way through. Sync up to the music and become the ultimate action hero badass when Pistol Whip launches on PlayStation VR July 28.
[This article originally appeared on
PlayStation Blog
]